Welcome to the Weimaraner Puppy Home Nest!
A site dedicated to loving, raising, and caring for Weimaraner Puppies and of course grown Weimaraners too!
Our site has become one of the internet's most visited Weimaraner sites of all time, somewhat more than 79,000 last month! More than 1.5 million during the year 2008. A search on Yahoo or Google for Weimaraner Puppies will find us on the first page of results with no paid promotion-ever. Thank you for your support. It is not our great writing, its the Weimaraner puppies!
AND SPEAKING OF PUPPIES ! ! !
Can you believe it? A litter of beautiful Weimaraner pups for Christmas!!
Every year, we get a number of inquiries from Santas everywhere, if we will have any Weimaraner puppies for Christmas. The answer has sadly always been no! We have never had a female Weimaraner give birth to a litter of pups even close to Christmas. (Despite my urging them to, they just don't care)
This year is different, Our very good friends from Germany, Barbara and Jost Diedrichs have a beautiful girl dog, Ella that is one of the nicest Weimaraners we have ever met, and they wanted to have a litter of pups. The results has been a litter of...well I will let the pictures provide the adjectives as to what the pups are like. There are a total of 5, they are coming up on 7 weeks old and will be ready to find new homes. There were three females and two males. All are healthy active and looking for someone to love and of course own.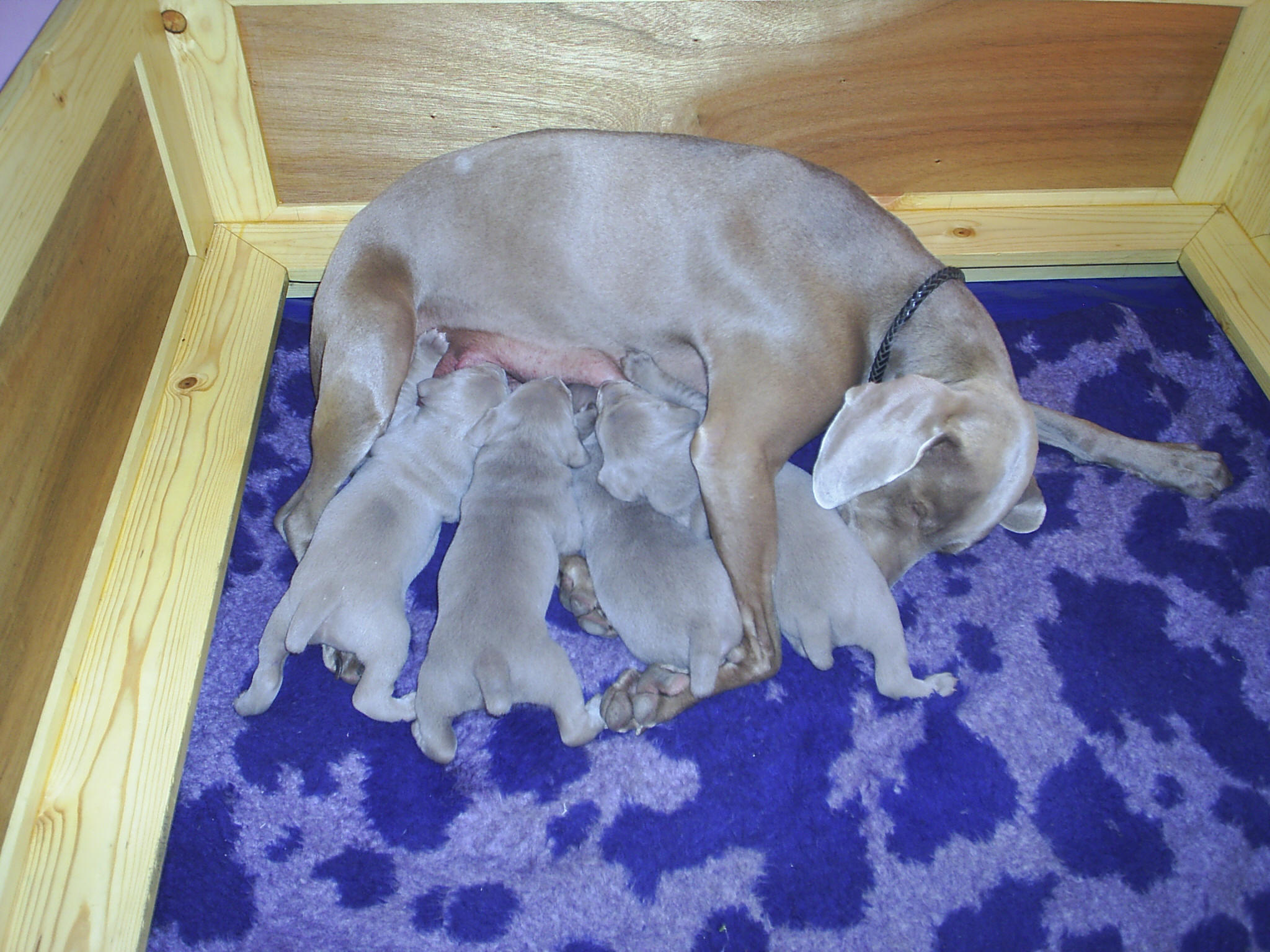 Ella is a great mom and has done a fine job of taking care of her pups.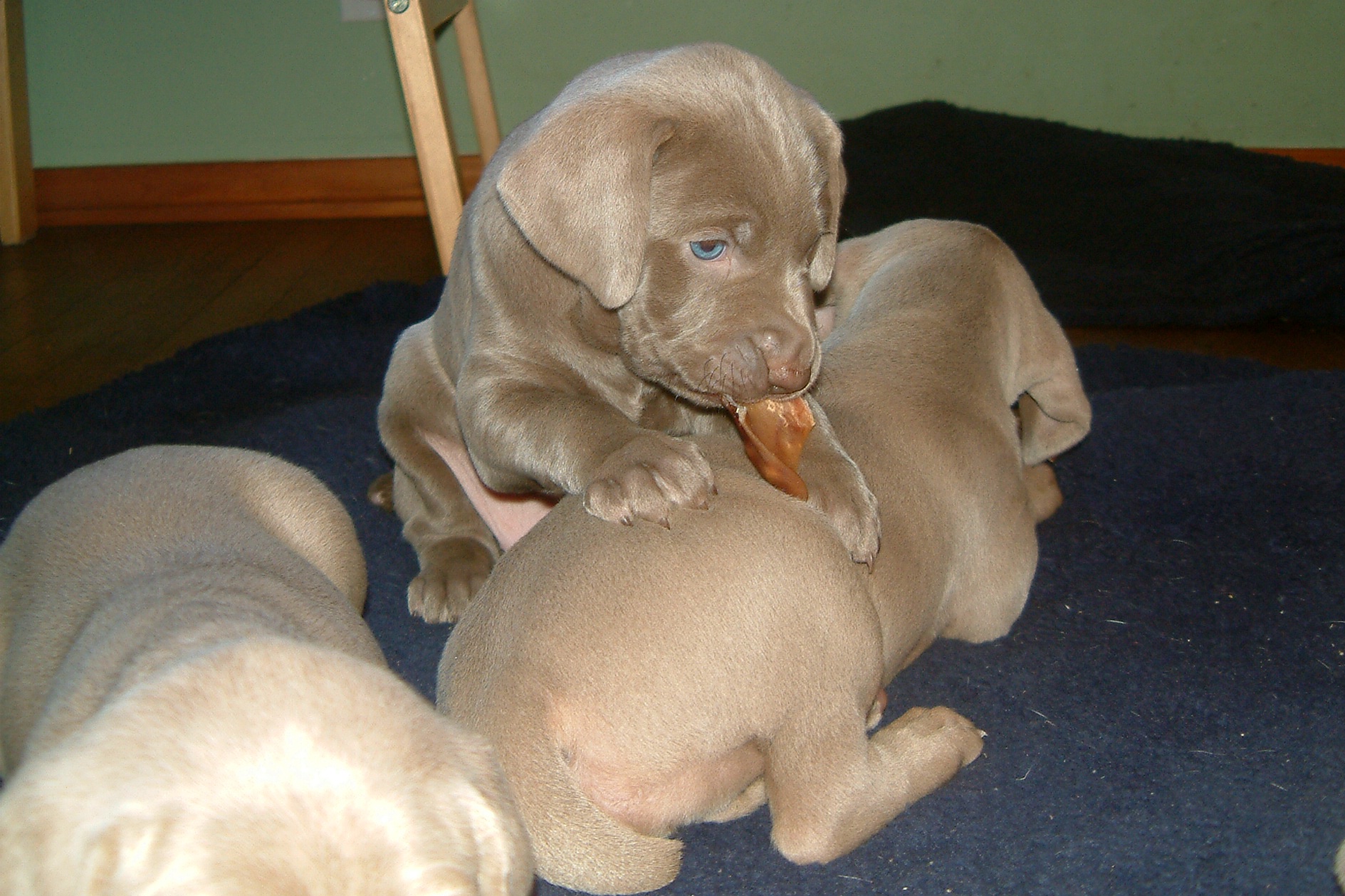 They are playful and quite active.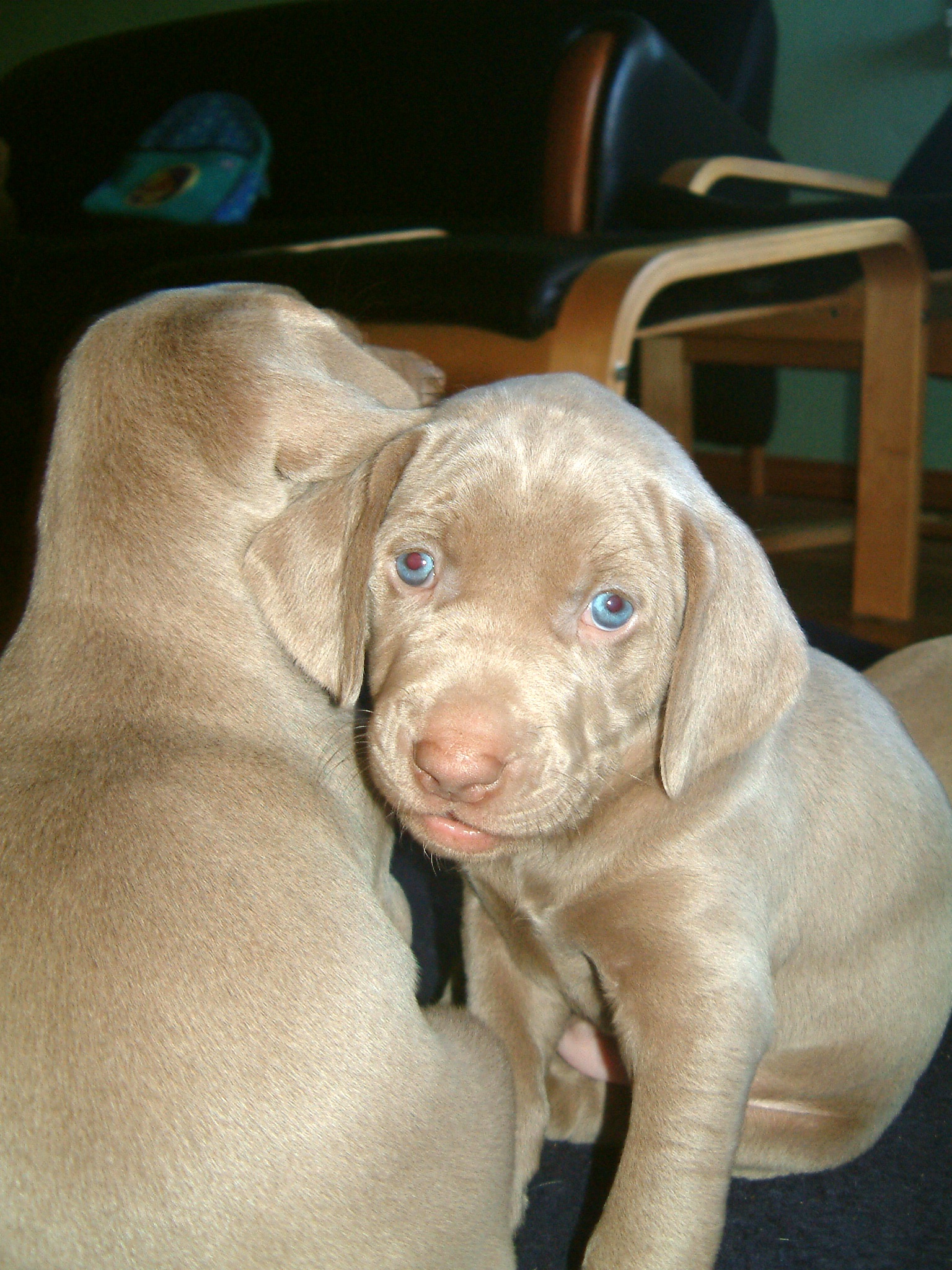 A face that you cannot help but love. The color on this picture looks very brown. It is the photographer, not the pup. The picture below is more accurate as to the color of the pups.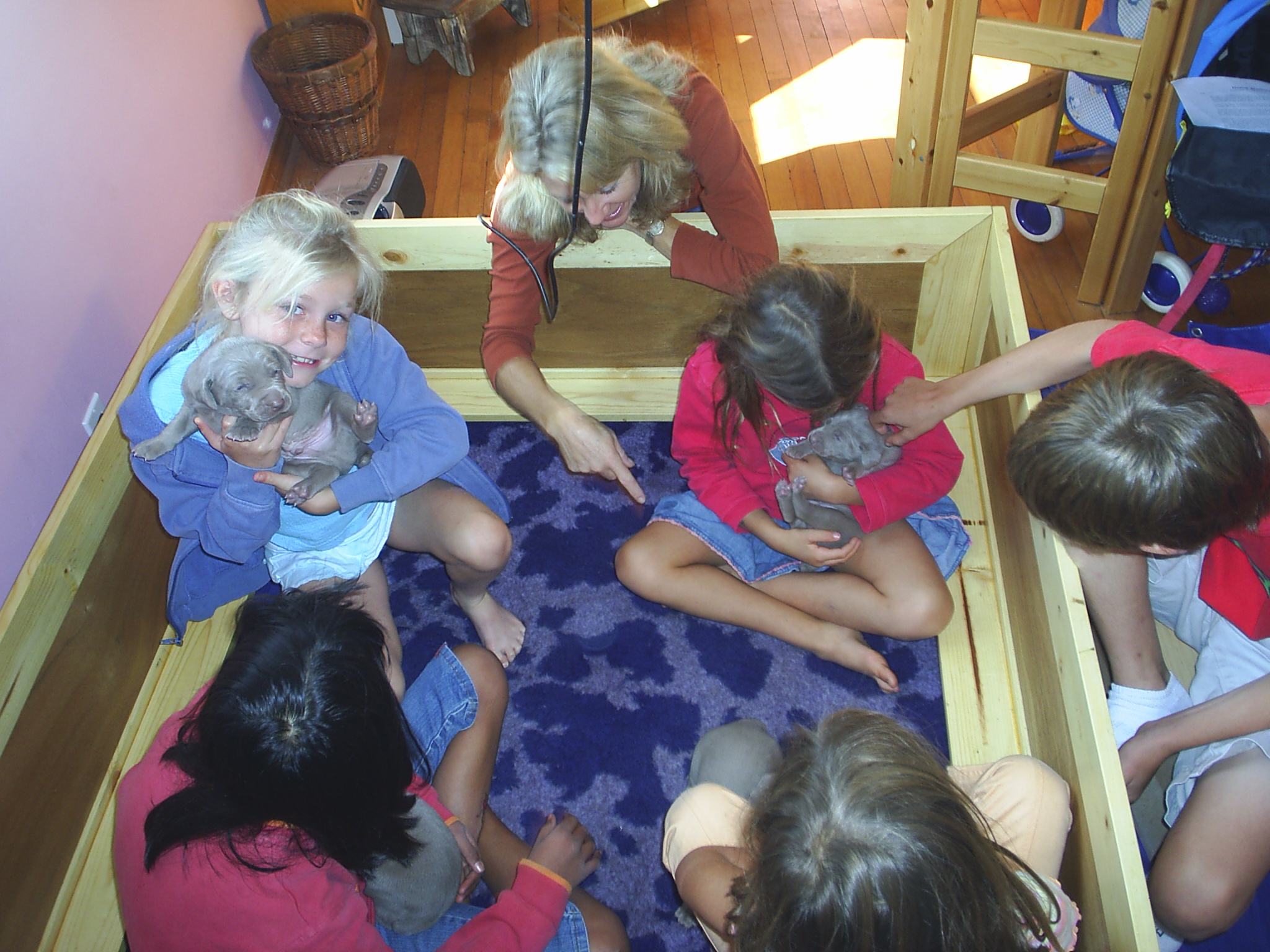 You will notice that this whelping box is located not in a garage or in a kennel, it is in one of the Diedrich's daughter's bedrooms! These are pups that have been handled and loved from their first moment, quite unlike breeders that raise pups in stainless steel cages. No cages here, just a family that loves Ella's pups.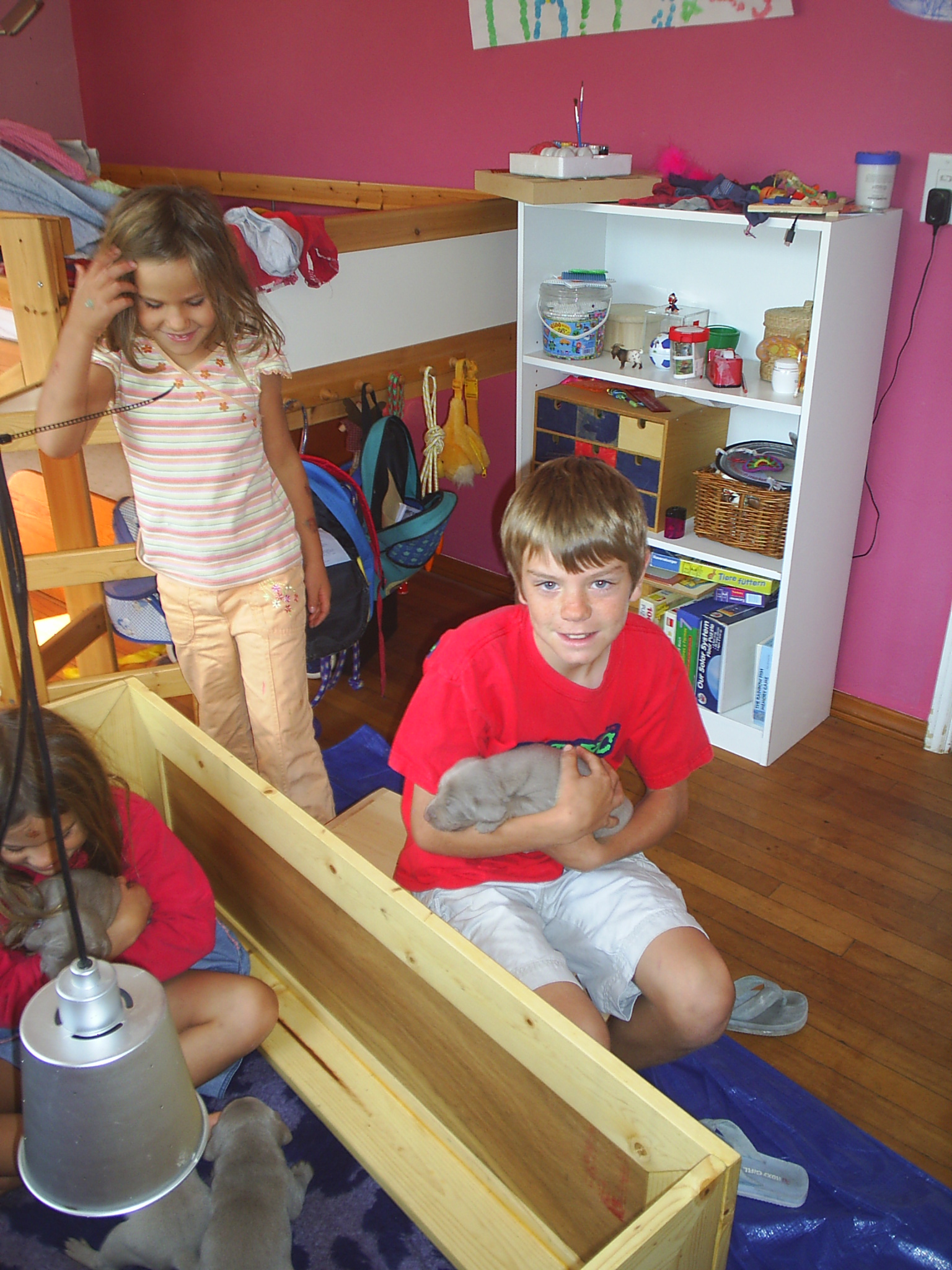 These are some of the most loved and cared for pups that I have ever seen. They will make great new members of a family and will be loving friends, companions and protectors for all of their lives.
If you are interested in being owned by a Weimaraner, this is a rare opportunity to have one of the best. For more information, you can call Barbara at (858) 748-9069 or email her at Barbara@the-diederichs.com
---
The Weimar Store is now open! Our first Weimaraner items have arrived.
---
Now, what you really came here for.....
Pictures of Weimaraner Pups
Elizabeth, one of the Weimarcorp mascots, gave birth to a litter of Twelve
Silver Weimaraner Puppies, five girls and seven boys! The last group of puppies was the most beautiful
litter of silver Weimaraners we have ever seen. This new group is every bit as nice. They are all silver
beauties. They all have found homes throughout the U.S. If you have an interest in a Weimaraner puppy
from a future litter, please e-mail us at vito@weimarcorp.com and we will put you on our no
cost or obligation Weimar Wanter list. Please include your name, address, e-mail address and
telephone number and choice of gender. Below are Weimaraner puppy pictures.
Note, this site is rather slow to load, we apologize, however there is no other way to get so
many great pictures to you.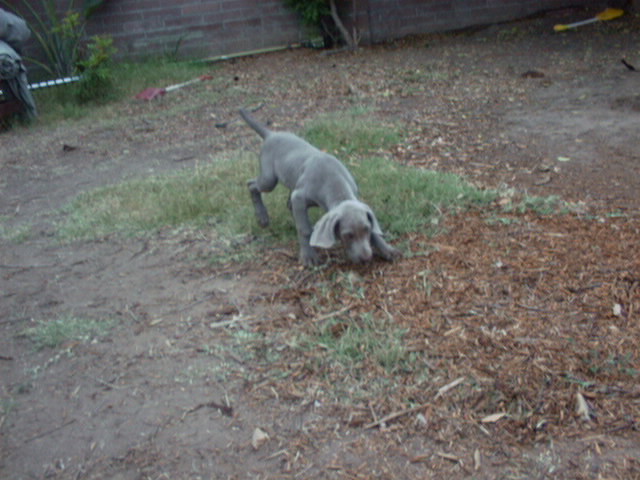 This iridescent silver male Weimaraner puppy has found someone special to love. See more
pictures and the story under "Our New Litter"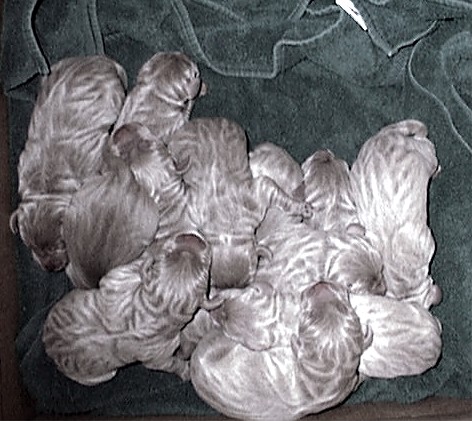 This group is VERY silver.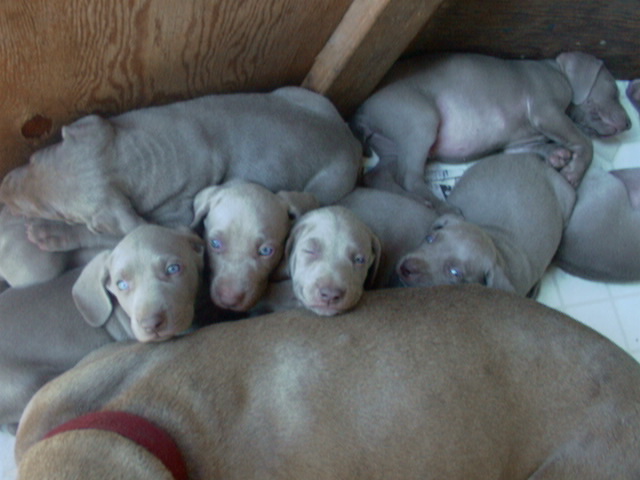 How could you not be touched by something as cute as these guys? Who are their parents?
Benjamin's von Elizabeth (Liz) is the mother. She is the daughter of our Ginger (von Steele's Ginger Lynn) and our main dog Vito (V. Remington von Liebre). She is a very sincere and a great mother.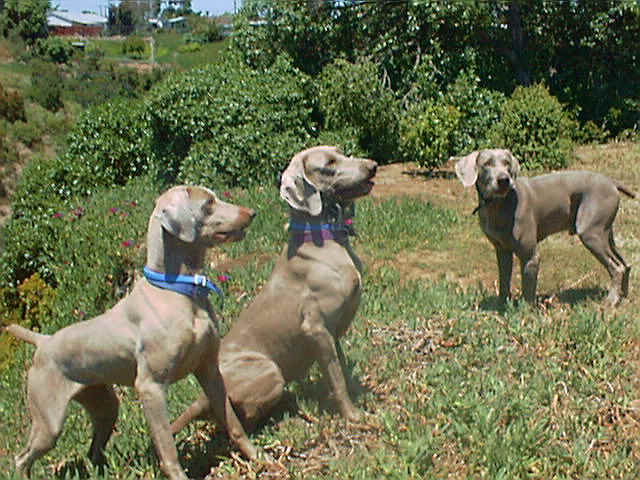 From left to right we have Ginger, Elizabeth and Vito. Each are magnificent in their own right.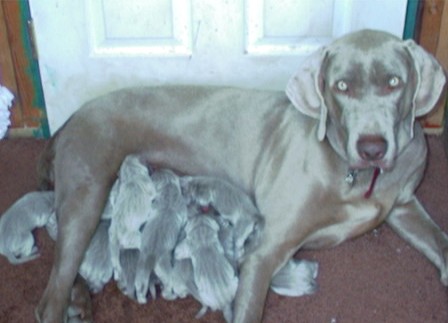 This is Elizabeth and her last litter of pups. She has been a great mom. By the way, these are not some exotic form of hamster or something, they are blue-eyed, striped baby Weimaraners. Their stripes last just a few days and their blue eyes last longer, usually about 2 or 3 months then they gradually turn the amber color that is typical of the breed.
The pups' father is Pierce's Kaiser (Kaiser or "Dad" in this case).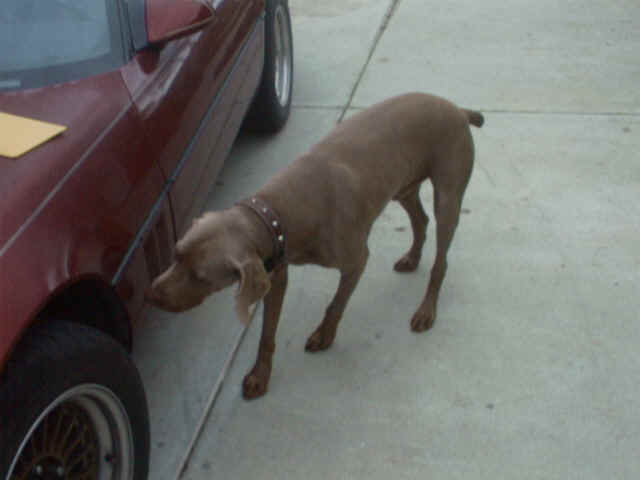 This is Kaiser, the only problem is the pictures of him do not convey what a silver colored dog this is. Not only is he a sweetheart, he absolutely glows in the sunlight. Kaiser is checking out this tire. It had been peed on by Vito and he is not to be out done he is going to correct the situation. Don't worry, it is nothing that TLC (time, labor and cash) can't correct in what happens to the wheel!
Both Mom and Dad have outstanding pedigrees and temperaments, with many Champions and
Grand Champions. They are intelligent, loving and beautiful and great with kids.
If you have been looking for a friend, companion, protector or a hunter, tracker and retriever, maybe our litter of pups may the source. All of our pups live in a home environment and have never been in a cage. We are NOT "Commercial Breeders" or by any definition, a Kennel. We are family people that love and raise the very finest quality Weimaraners to become the hairy gray people joining your family. (or taking it over as the case may be) Please remember, Weimaraner puppies are not for everyone that likes the way they look. These are high performance, extremely intelligent "super dogs" that will run you into the ground if you cannot cope with them. If you can cope with them, they are the best friends, companions and protectors the canine world has to offer.
Be sure to click on the "OUR NEW LITTER" ,"FAMILY ALBUM" and "YOUR PHOTOS" boxes at the top of this page to see lots more pictures.
For more picture of the new pups, click the blue box
---
In Loving Memory: V. Remington von Liebre (9/8/90-3/25/99)
A Lesson for Every Person that Loves a Weimaraner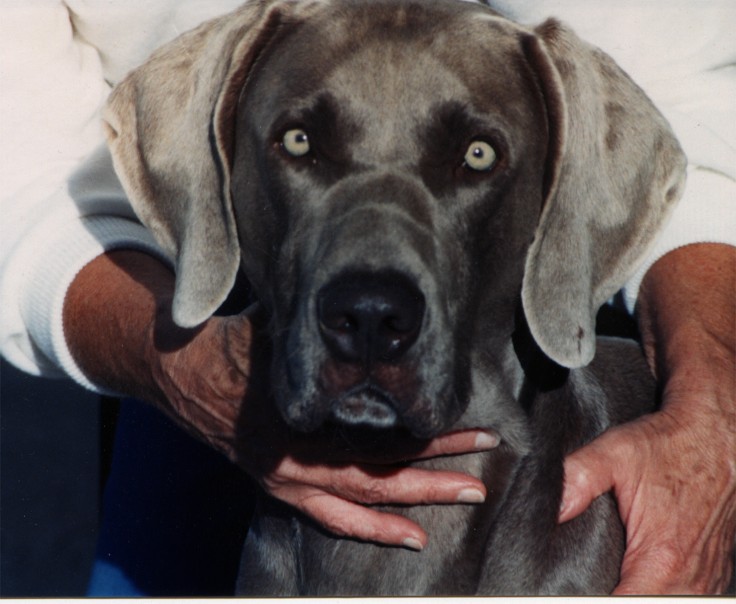 This is V. Remington Von Liebre, a fearless and magnificent Weimaraner that was a credit to the proud breed. His untimely passing is remembered with sadness by all that knew him (except for cats).
On March 25, 1999, it was a rainy day in San Diego and Vito was cooped up inside all day with just a couple short outing to take care necessary business. Right around dusk, we opened the back door to let him out for some air and he took off down the canyon behind the house. This was not unusual, the canyon was the reason we bought the house, for the Weimars to have some space. What was unusual is that he did not come back in three minutes like he always has. Instead, he kept running up the other side of the canyon and through some yards and onto a busy street where he was struck and killed by a car. Why did this happen? We will never know.
We did not know that his had happened. All we knew is that he did not come back. We started a systematic search of the neighborhood and found nothing. Still no Vito. In desperation the next day we put up photo posters around the neighborhood and a lost and found ad in the paper.
We got two calls on the lost and found ad which stated "Substantial Reward" for his return. Two different individuals called collect and said "friends" of theirs had Vito and if we would just wire money $500 to a name like John Jones with a specific identifier code word, they would do their very best to help us get Vito back. Although we were frantic, we were not stupid and we did not send the money (although we would have gladly paid twice that as a reward for getting him back).
About a week later, we got a call from a caring person in the neighborhood that saw Vito hit by the car that just kept on going, and tried to help him (she is a vet tech). She then saw the posters and thought we would want to know the truth. We did want to know and we are so grateful to her for taking on the very difficult task of telling someone that the dog they obviously love very much is gone. It has at least provided us closure.
The lesson here for all Weimaraner owners is NEVER trust a Weimaraner to not take off or not to do something they have an instinct for. No matter how trustworthy or people like they are or become, Weimaraners still have a sporting dog instinct that can get them in trouble or worse. Before Vito took off, Ann said to him "Don't you take off". He just looked back with that "see you later" kind of Weimaraner look. Only this time, he did not come back.
A perfect example of that Weimaraner attitude is the very responsible people that used one of those Radio Fences that have a buried wire that sets the boundary instead of a fence. We received an email from a person that had used that type of fence with complete success, "she never challenged the fence, until... their girl Weimaraner found a good enough reason to run through it and go out and get killed by a car. Another example of this tendency is the people that have one of our pups, Otis. They had a Weimar before Otis that when they opened the door from the house to the garage, the garage door was open. Their Weimar ran out of the garage having seen a cat and instead of catching the cat, got hit and killed by a car. You can never get them back.
At age 9, Vito did not show any signs of being an "older dog". He was waiting anxiously for Ginger to be in season again so he could make more pups. When we would take him to swim in the bay, usually with friends that have his much younger pups, he would swim them into the ground. And as far as chasing the Frisbee down the canyon, he was a superb hunter, pointer, and tracker. He was the best finder of lost Frisbees and lost tennis balls of any Weimaraner we have ever seen. He was the most powerful and had the greatest endurance of any Weimaraner we have ever known. He was physically perfect, extremely intelligent, a great friend and companion, protector of our children, and a delight to our friends and guests (not cats however) and credit to the breed he represented.
One of the services we offer is our Weimaraner Advice column, "Ask Vito". A frequent question from people that have lost a Weimaraner they love is: What should I do to ease the pain? We always say to get a new pup. Well in this case, we knew that Liz was pregnant and that Vito was the grandfather of the litter. So, instead of going to one of the many fine Weimaraner breeders and explaining that we need a very fine male pup, we waited two very painful months to see what Liz's litter would bring. As it turns out, it was worth the wait. After watching the pups from the day they were born, by seven weeks, he had shown himself. There was just one pup that is so clearly a baby clone of Vito's, he now owns us! The circle of life has done it again and here he is... "V.T." (Vito Tyrone) The Vito is obvious and the Tyrone is from his Great Grand Dog, Leotus Tyrone Washington, III. (To which he is actually not related at all other than as all Weimaraners are somehow related) So here he is: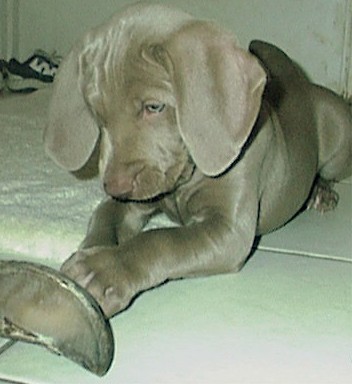 This is V.T. at 8 weeks.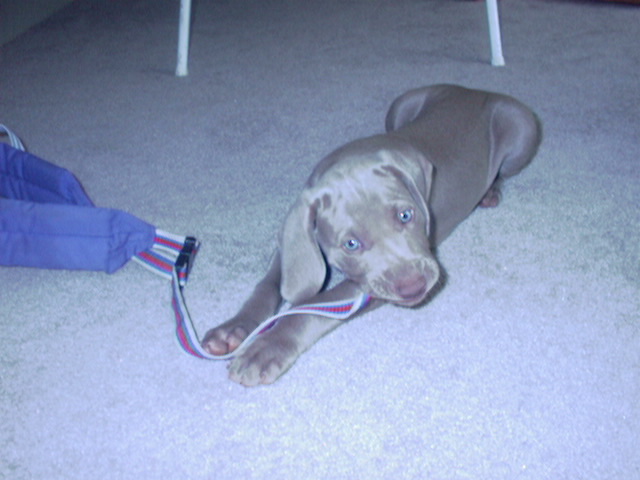 This is V.T. working on the strap of Erica's back pack. It was in better condition before he started.
And this below are two pictures of Vito the new Vito's grandfather, (back in 1990) when he was about 11 weeks old. Look at the eyes. The other day a man said to me, "You know, I don't believe in reincarnation but I gotta tell you, Weimaraners are the best argument for it."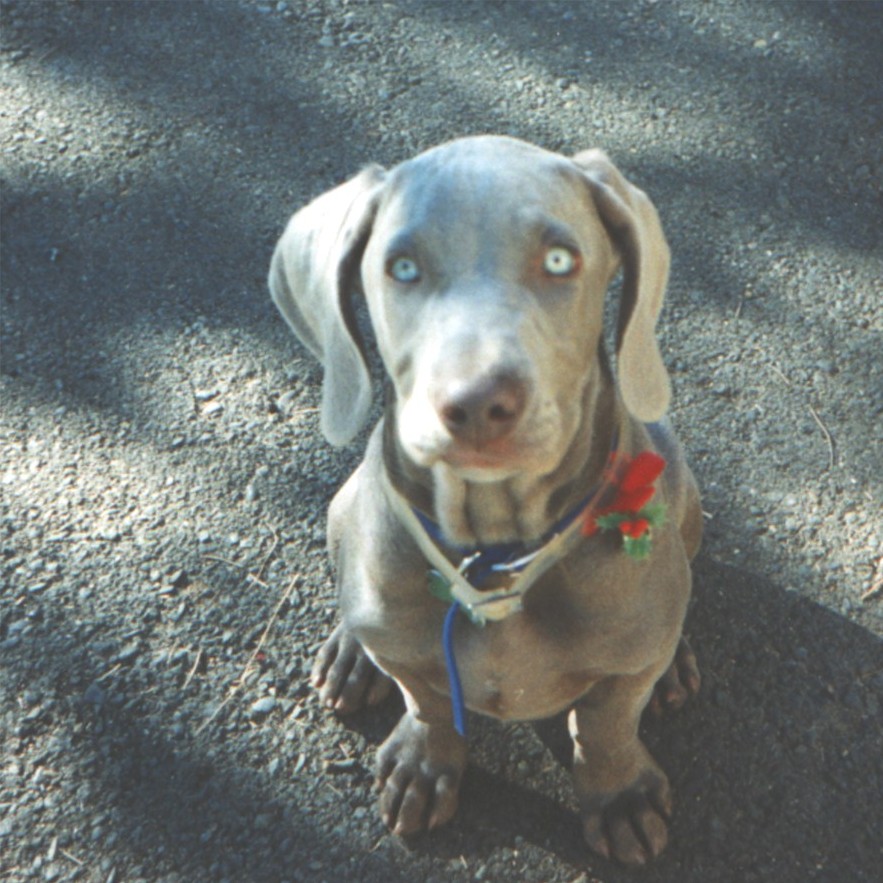 Is this Vito or "VT"?
Well, this new pup, out of all of the pups from the litter, is the only one with nearly all of Vito's mannerisms. He was house broken the moment we brought him in, he crosses his paws when he lays down, he sits and gives you his paw on command (if he feels like it, just like Vito) he lets himself in and out of the door (although he cannot reach the door knob yet), he is the only puppy that can get out of the puppy pen, any time he wants (and we are not quite sure how he is doing it) and most importantly, he makes us smile again! We always tell people that have lost a Weimaraner they love that a new pup cannot be the Weimar that you lost. That is true and although we do not expect the new pup to be Vito, we sure do see many of Vito's fine qualities and the fine qualities that are inherent in a Weimaraner with a great pedigree. Great pedigrees do not make great dogs....but, great dogs have made great pedigrees and their offspring are more than likely to be great dogs too.
This brings us to a new problem. Vito, with Don and Naomi's help has written the "Ask Vito" column. Now without Vito, the task is much harder. Until V.T. is fully broken into his responsibilities, Don and Naomi are going to have to do the best we can to answer your questions. It's just that we can't bring ourselves to take Vito's name off, so it is still the "Ask Vito" section, even in his absence. We hope you will continue to send your questions which we will do our very best to answer and if we do not know the answer, we will find it out for you.
ASK VITO
One of the very important services we offer to Weimaraner owners, and wannabe Weimaraner owners, as a responsible Weimaraner breeder, is the "Ask Vito" Weimaraner information service. This column is done in memory of Vito, our male Weimar that ran out the door and was killed by a car. For all the advice we have given to people in managing their Weimaraners, we did not follow the most important rule...Never trust a Weimaraner to do anything other than what they want to. If you have a question about Weimaraners, or anything about them, e-mail it to vito@weimarcorp.com and Naomi and Don will personally answer it and respond by e-mail.
Coming Soon, A New Book...
So, You Think You Want A Weimaraner!
The Down and Dirty Truth About The Gray Ghost
Due to the overwhelming response to the "Ask Vito" column, Vito, before his untimely death had decided to write a book about, what else, Weimaraners! Over the years, he had collected more than a thousand pictures of Weimaraners, young and old doing the things that Weimaraners do. Our semi-fearless leader (he was definitely afraid of Ginger) had found that many people share concerns about Weimaraners. What he was also worried about is the fact that there are concerns people should have about Weimaraners, particularly the wanabees, that they do not even know exist. This will be a heavily illustrated, down and dirty, "tell all" book about all aspects of Weimaraner life and the people they own. Because he was a technology hound, Vito had given serious thought to publishing the book to be downloadable or on CD ROM. We would appreciate your input as to what format you would like the ultimate book on Weimaraners to be.
Send us Your Weimaraner Picture!
If you have a picture of a past or present Weimar that you would like to make famous, we would be delighted to post him or her on our page. Just e-mail the picture and a little history, to our e-mail address below. Please put in the email something that says you give us permission to put the picture on the site. If you do not have a digital picture, you can send us a snapshot and we'll scan it.
For further information, or to send pictures, email to: Vito@weimarcorp.com
We are proud to announce for the second year in a row that this site has won the "Good Dog Site" award!


Although we notice this is not a picture of a Weimaraner, we would like to express our gratitude.